Congratulations on your graduation from NYIT! Career Services is still here for you even now that you're an alumnus!
Alumni Networking and Mentoring
Alumni are encouraged to take advantage of our job search resources, online, via telephone, and in person. Career Services is here to help. Contact us (link to contact us) to schedule an individual appointment.
Alumni Networking
Now that you're a graduate, take advantage of the many perks the Office of Alumni Relations has to offer you. Network and become connected with other NYIT alumni!
Alumni Mentors
Interested in giving back to NYIT students? Become an alumni mentor to a current undergraduate or graduate student and share your professional expertise.
LinkedIn is the leading professional network on the web, enabling you to connect with classmates, faculty, and family professionally, find new opportunities for internships and full-time positions, and manage what potential employers learn about you from the Internet. View these LinkedIn learning webinars to help get you started. Then join our NYIT Networking Group which has 1,500+ members and growing strong! You can also use LinkedIn to connect with alumni or to view entry level jobs.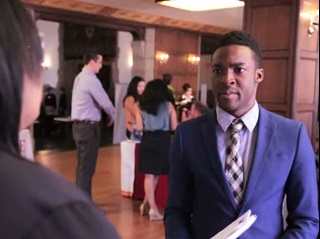 Check out CareerSpots videos for tips on everything career related.
Advanced Degrees/Graduate School
If you're considering an advanced degree, learn about the process of applying and consider NYIT graduate programs or use the graduate school guide to search.
Graduate and professional degrees are for individuals who need specialized professional credentials to reach their career goals. Some graduate programs can enhance employment prospects, increase salaries, or improve chances for future advancement. However, you need to research your goals before deciding to undertake the time and expense of further study. Career Services is available to assist students with researching schools and programs, reviewing applications, and critiquing essays and practicing for the interview process.
What are your interests? What are your options? How can you get there?
Should I go to grad school? This is a question many recent grads contemplate. Watch this one minute video by Pete Leibman, Dream Job Academy, to help with your decision.

Explore and research Kaplan (Kaplan) and the Princeton Review (The Princeton Review) to assist you in the preparation process.
Graduate School
Medical School
Law School